Our friends at Franz Bakery know the most important part of a bike ride. No, it's not the space age material of your bicycle frame or the latest electronic shifting system. It's the food that fuels you before the ride and restores you afterward. We asked them for some of their favorite recipes to power your pedals this season and we've got two great springtime sandwich selections to get the wheels rolling.
We'll be featuring a selection of recipes here throughout the riding season but be sure to also follow Franz on Facebook here , Instagram here and TikTok here.
---
Franz Green Goddess Veggie Sandwich Recipe
No better fuel than your favorite veggies and a homemade Green Goddess Sauce stacked high on a sandwich held together by your favorite Franz bread.
Ingredients:
• 2-3 slices of Organic, Keto, or Gluten-Free Franz Bread of your liking. Gluten-free Mountain White pictured)
• ½ Head of Lettuce
• 1 Sliced Avocado
• 1-2 Cups Sprouts Microgreens or Sprouts
• 1 Cucumber
• ¼ Cup Mayo
• ¼ Cup Parsley
• ¼ Cup Tarragon
• ¼ Cup Greek Yogurt
• 1 Lemon
• Optional: Any other veggies of your preference.
Step 1
In a blender or food processor, combine mayonnaise, basil, Greek yogurt, parsley, and tarragon. Juice one lemon half into the mixture. Blend until smooth for Green Goddess Sauce.
Step 2
Add lettuce and cucumbers to a bowl. Squeeze remaining lemon juice and drizzle with oil, salt, and pepper until coated.
Step 3
Spread Green Goddess Sauce on top and bottom of bread slices. Layer cucumbers, sprouts, avocado, lettuce, and any other veggies in your preferred order. Cut in half and enjoy!
---
Franz Open-Faced Honey Ham Grilled Cheese Sandwich Recipe
It's hard to beat a grilled cheese. It's even harder to beat these open-faced Honey Ham Grilled Cheese sandwiches on Franz Organic Bread.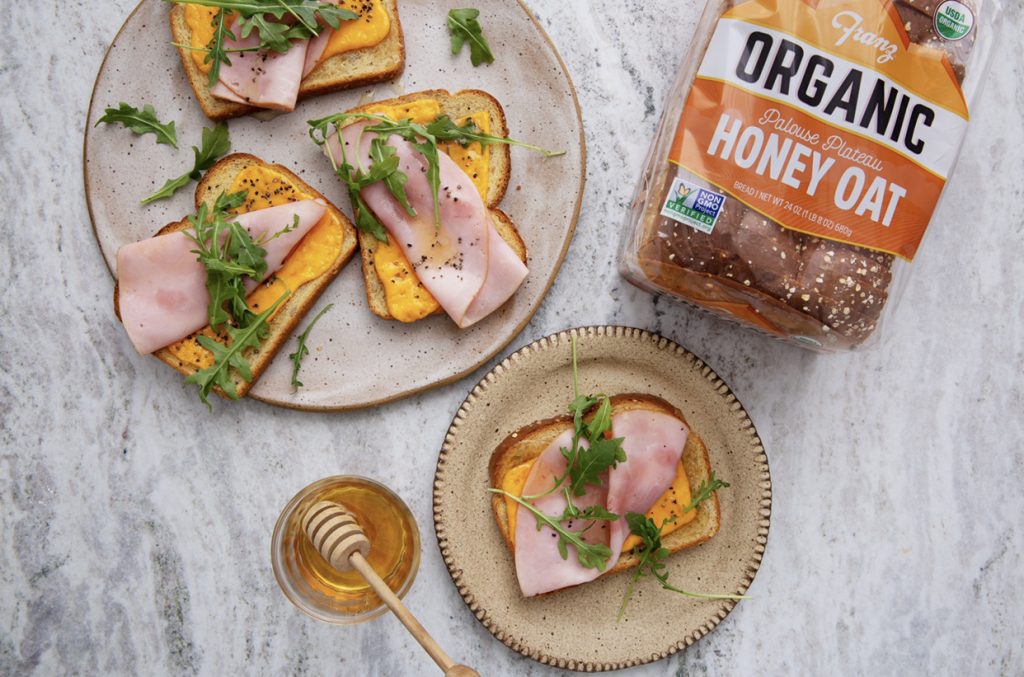 Ingredients:
• 4 Slices of Thinly Sliced Ham
• 4 Slices of Your Favorite Franz Bread (We used Organic Honey Oat)
• 4 Slices of Cheddar Cheese (Other cheeses work great, too!)
• 1⁄2 Cup Chopped Arugula
• 2 tsp Honey
• Butter
• Black Pepper
Step 1:
Preheat the oven to 400°F. Brush a sheet pan with olive oil or coat with non-stick spray.
Step 2:
Arrange slices of your favorite Franz bread on the sheet pan. Top each piece of bread with 1 slice of ham, 1 slice of cheese, and sprinkle lightly with black pepper.
Step 3:
Bake for 9-12 minutes or until cheese is bubbling and melted. Top each slice with honey, arugula, and serve!
---