Joyride
INDEPENDENCE, OREGON
About
Event information on this page is for our planned 2020 event that

has been

canceled due to the COVID-19 pandemic. It is our hope to host this event as detailed below in 2021 at a date to be determined later. The health and safety of our community—our riders, volunteers and the towns we visit—is paramount. For more information about the cancellation and how to support Cycle Oregon during these uncertain times, please

click here

.
RIDE & UNWIND. Last year we found our Independence and this year we're going back for more. The charming community of Independence, Oregon is hosting us once again for Cycle Oregon's annual one-day celebration of women and bikes. We'll venture out on the quiet country roads of Polk County taking in the sights and smells of the Willamette Valley. We'll mingle with locals and wave to the livestock as we ride past hopyards, crop fields, vineyards, and orchards. And once we roll back into town, a delicious locally-sourced meal and live music will be waiting. All levels of cyclists are welcome – if you can push a pedal, you can party with us!
Sorry, fellas. This ride is for women, but we'd be happy to have you come and volunteer!
The Ride
June 20, 2020 • Independence, OR

Short: 17.8 miles • 188 ft. of climbing

Medium: 39.9 miles • 1,080 ft. of climbing

Medium w/ gravel option: 36.3 miles (6 miles of gravel) • 1,013 ft of climbing

Long: 63.6 miles • 2,113 ft. of climbing

Long w/ gravel option: 63.0 miles (6.9 miles of gravel) • 2,213 ft. of climbing

Cost: $100
Route
We'll be offering up our usual short, medium and long routes for riders of all levels. For riders who wish, there are options to take gravel roads as part of the medium and long route both. The main routes are all paved for those who are not interested in gravel.
SHORT: 17.8 miles (188 ft. of climbing)
MEDIUM: 39.9 miles (1,080 ft. of climbing)
MEDIUM W/ GRAVEL OPTION: 36.3 miles (1,013 ft. of climbing) 6 miles of gravel road
LONG: 63.6 miles (2,113 ft. of climbing)
LONG W/ GRAVEL OPTION: 63.0 miles (2,213 ft. of climbing) 6.9 miles of gravel road
Food, Drink & Entertainment
Joyride will offer ample opportunities to sample some of the local fare being perfected throughout Oregon along with a collection of some of our favorite beer and wine from the area, all served up at the finish line.
The finish-line feast at Riverview Park will feature a bounty of Oregon products.
Last year's menu included:
Draper Valley pasture raised chicken marinated and grilled on-site
Thin sliced NW Natural beef brisket
Local tamales and salsa from Vianney's Tamales
Whole grain roll with butter balls
Roasted acorn squash wedges
NW Classic Foods fresh pesto pasta salad with vegetables
Salad Bar featuring a variety of local and organic fresh salad toppings
Lauretta Jean's Biscuit Bar with local strawberries from Diaz Farms, blueberries, Alpenrose whipped cream, Oregon jams and Martha's honey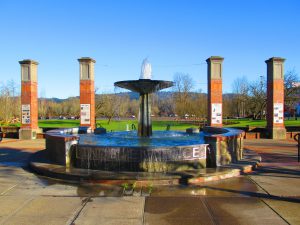 In addition to enjoying good food, you'll hear great live entertainment. If you're in the mood for self-care, there will be massage therapists, and physical therapists available for appointments.
Accommodations
There is no camping allowed at at the start/finish line in Riverview Park, but lucky for you there are a number of wonderful places to stay in nearby. Visit Travel Salem, the Monmouth-Independence Area Chamber of Commerce, and Explore Polk County for nearby accommodations.
The Independence Hotel
The Independence Hotel, adjacent to Riverview Park—Joyride's start/finish location, has created a special two-night package for Joyride cyclists. The hotel is bike-friendly with space to store two bikes in each room, a 24-hour bike work room, and an outdoor bike wash station.
Stay at the hotel at a discounted rate of $199/night (+ taxes and fees), requires a two night minimum. Book online using access code: JOYRIDE20
Want the full experience? Their VIP package includes breakfast, a post ride gathering on the rooftop patio, and a unique welcome gift. Package price for a deluxe room (1-4 guests, depending on room type) is $450 (+ taxes and fees). Book online using access code: JOYRIDEVIP
Western Oregon University
Western Oregon University, located about three miles west of downtown Independence, is offering accommodations to Joyride participants in their residence halls.
Rooms are a traditional residence hall rooms. There is a men's and women's community restroom in each hall, in addition to two single stall restrooms with a shower, toilet and sink. Beds are standard twin xl residence hall beds. Linens will be provided. Each linen pack includes a pillow, two blankets, two flat sheets, pillow case, towels and washcloths. Each room is equipped with a microwave, mini fridge and freezer.
Single Rooms are $31.75, per night
Double Rooms are $44.50, per night
Click here for more information and to reserve.
Services
Rider Services

Rider Services is the Cycle Oregon customer service department. This is the place to ask questions, get help solving a problem, meet friends, leave a note on the message board or locate missing items at lost and found.

Gift Shop

The Cycle Oregon Gift Shop is where you'll shop for Cycle Oregon merchandise including cycling gear, t-shirts, sweatshirts, hats, jewelry and much more. Look for the Cycle Oregon Gift Shop in the big yellow trailer.

Massage

After a long day in the saddle, bring your tired legs down to the massage tent. Our therapists use a variety of Swedish, deep-tissue and sports massage styles to keep you riding strong. Massage relieves muscle pain and tightness by stimulating circulation, helping you recover after extreme exertion and stopping spasms before they stop you from riding. Massage can be tailored to your pressure preferences and to the areas where you need it most.

Pre-booking is available. To pre-book appointments, please visit the Cycle Oregon Massage Team's Web site, click on the ride that you would like to book an appointment for, choose a therapist and contact them directly.

Massage rates are $55.00 for a 30-minute appointment. We accept all major cards or cash.

Physical Therapist

Megan Moseley, PT, LMT, of Bodywise Physical Therapy, will be leading us in a pre-ride stretch to get you ready for great day on the road.

After the ride, Bodywise therapists will be available for free injury consultations including a brief evaluation, hands-on treatments including myofascial release, graston, cupping, mobilization, kinesio-taping. Megan will educate you about the origin of your symptoms, instruct you in stretches, exercises, and self-care techniques to get you back on the road! Additionally, Megan will make recommendations for bike fit adjustments as needed.

Bike Repair + Rentals

The Bike Gallery supplies a team of bicycle technicians who provide mechanical support on the route and in Independence. Technical support is available for emergency repairs of well-maintained equipment. It is your responsibility to make sure your bicycle arrives in good condition. Any repairs performed along the route will be basic in nature and designed to get you to camp.

Bike Rentals

Are you flying in for the event or and prefer not to transport your bike? Bike Gallery offers rentals that makes it easy. Bicycle pick-up and return is right on on-site at Joyride. Sizes are limited so click here or call 503-281-9800 to book your reservation early.

Bicycle pick-up and return can be on-site in Independence for an additional cost. 

Check-In and Packet Pick-Up

June 20, 7 a.m. – 10 a.m.

Packet Pick-Up will not be available prior to the event.

When you check in, you will be asked to sign a waiver and then you will receive your packet that includes a wristband and course maps. Bring a photo ID. You must show your photo ID to pick up your packet. Once we affix your wristband, it should not be removed unless you leave the ride. The wristband is what identifies you as a participant and gives you access to meals and course support.
EVENT POLICIES AND FAQS
We understand things happen in life and sometimes you have to cancel your registration. We want to make it as easy as possible to do so. Please note we do not make exceptions in our cancellation policy (including family, medical, or employment situations). We cannot offer credits or transfers.
Click here to review our cancellation polices.
Ride Archive
Relive rides of yore with our handy ride archive: