Note from the author – During my three decades in the bicycle industry I have been fortunate to visit scores of bicycle related businesses including many in Oregon. But there's one right here that I knew very little about and the same was true for many of my peers and even local cycling enthusiasts. While installing a new set of Paul Components Klamper mechanical disc brakes I grabbed the two packages of disc pads included in the box and flipped one over to check the tech specs. The brand logo in the bottom corner was immediately recognizable, one I'd seen from my days as an angsty teen hanging out at the parts counter of the BMX shop and on into my mountain bike days through to today. Turns out that the brand, Kool-Stop, does more than just brake pads though that's what they do a lot of and they've been hard at work in a quiet corner of the most unlikely place you'd think for a manufacturing facility – Lake Oswego, Oregon.
When I got to work the next day I pulled up the company's website and clicked the "Contact" drop down. I sent a simple note expressing my appreciation as a rider and mechanic while asking for the opportunity to do a small feature on the brand in my role at Cycle Oregon. We love to feature Oregon businesses that power the sport of cycling and, to my delight, they said I could roll by and say hello. Searching the business on Google Maps, the location comes up with a 5-star rating (no surprise) and the description as a "brake shop" (maybe not surprising but certainly amusing). Just as the company has been since its founding in 1977, this simple expression belies Kool-Stop's huge presence in the retail market and as the largest bicycle brake pad manufacturer in the Western hemisphere. They've made brake pads for every name in the game and, again, done it without making any noise about it or seeking any attention whatsoever.
Kool-Stop does not allow photographs of the inside of their manufacturing facility on Willow Lane but they are exceptionally friendly to guests. There is no retail business here nor is there a "brake shop" for service or technical support. It's a manufacturing business always in motion with a vast product catalog and an unrivaled track record for shipping same day. (Brake pads are likely the most in-demand product over the past few years and they've not missed a step through any of it). Kool-Stop is one of the cleanest manufacturing facilities I've ever seen and run by a close-knit crew of long term employees. How long term, you ask? The "new guy" was hired in October 1993. I could go on, and honestly, I get goosebumps thinking about what Kool-Stop has done and continues to do. Hundreds of brake pad models and compounds for every type of bike on earth; still making and selling rim pads from three decades ago while also supplying the latest disc pad shapes. It's incredible to think about how far-reaching around the world this humble company is. But let's not make this a novel, we all want time to ride in the summer sun.
–Chris DiStefano Cycle Oregon Marketing & Development Manager
---
A conversation with Tim Watson of Kool-Stop.
You must hear this question quite often, why make brake pads here?
Richard Everett, the founder of Kool-Stop, grew up in Portland and attended Portland State University. After serving in the U.S. Navy where he earned the National Defense Service Medal and the Vietnam Service Medal he returned to the region and settled in Lake Oswego. He was an innovative entrepreneur at heart and through a business making industrial friction components saw an opportunity in bicycling. The International pad was the first brake pad produced by Kool Stop and is where we got the name of the company.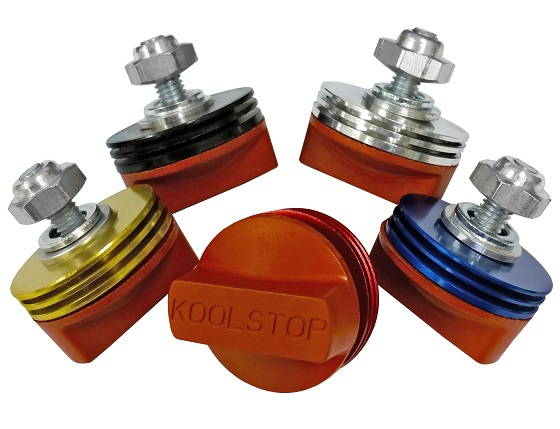 Even locals do not know there is a small industrial manufacturing section here and it's been the location of our headquarters since 1977. Richard said that he noticed most of the bicycle and component manufacturers move out of the country and he didn't want to see Made-in-USA manufacturing jobs and tool building leave. Oregon was his home and he believed the best way to do business was to do as much as he could here.
(ed. note – Richard Everett passed away in July 2020)
They seem like a simple part but there's a lot of complexity in brake pads. What are some of the challenges in developing brake pads for bicycles to work in all conditions?
Making a brake pad for all weather conditions has changed over the years. Steel and aluminum wheels offer challenges with rim brake pads when rain is in the forecast. Water on the rim increases braking distances and add to that all of the road grime and oil lifting off the road and splashing onto your wheels and brakes. Brake pad function is the top of the list for safety no matter where you live but being based in Oregon gives us great opportunity for all conditions testing.
We were the first brake pad company to mold rubber around an internal backbone to eliminate the possibility of a rubber block slipping out of a clamp on holder. We were also the first to develop a brake pad that had an offset post that used the rotation of the wheel to pull the longer pad section onto the rim. These are just a few of the many innovations from Kool-Stop.
We had rider test reports years ago that they were changing brake pads during a ride when it would start to rain. So we started offering a dual compound brake pad that worked well in all weather and they are used around the world with great results. Again, being located in Oregon allows us to do real-world testing in challenging conditions throughout the year.
We mix all of the rubber and mold under one roof so we can control all of the ingredients that go into the rubber batch. High quality ingredients provides long term quality braking that is kind to the rim surface. We market our rim brake pads as Rim Friendly and with wheel builds so expensive we want our brake pads to work well but not damage the rim.
There are very few bicycle component parts as iconic as the Kool-Stop Vans® shoe brake pads. Are they real brake pads or just for fun?
The rubber compounds that we formulate and mold at our location are all very high-performance. We mold these into traditional brake pad shapes and also our Vans® brake "shoes". The collaboration with Vans® began in 1986 and we're still selling them today. (ed. note – the red/white/blue swirl pads are so cool!)
Disc brakes have become much more commonplace on bicycles and while the performance is improved we'll say we miss the fun and color of the Kool-Stop Vans® and Continental shapes. So… rim brake versus disc brake, what are your thoughts?
Disc brake pads in the 1990's were found mostly on downhill mountain bikes but we knew that disc brakes would eventually make their way onto every bicycle type. We developed disc compounds and molded and tested them in Oregon and we are currently having our proprietary compounds molded in Taiwan. We started with 6 aftermarket shapes and at last count we have 114. Some of those are compound variations with the same backing plate shape but supplying the world with high quality aftermarket disc pads is one of our specialties.
Not all OEM disc pads that come on a new bicycles are up to the task. Heat kills brake pads and our aftermarket compounds are designed to run cooler and perform better. We spend hundreds of hours on the in-house dyno and then we get outside because nothing is better than actual field testing outside. We send brake pads around the globe to test riders and use the data to make adjustments to get the compounds where we want them. (ed. note – that testing dyno is amazing, I could watch it work all day.)
Add the human element to braking and that is a variable that changes with each rider; you have to lift off the brakes and let them cool or you can glaze the pads or build up pad material onto your disc rotor which can layup on the rotor unevenly and this can cause disc pad squeal. Bedding in the disc pads correctly is something that riders sometimes neglect and that can cause squeal. Noise/squeal is usually blamed on the brake pad when in fact the pad is letting you know that there is a problem with the rotor surface.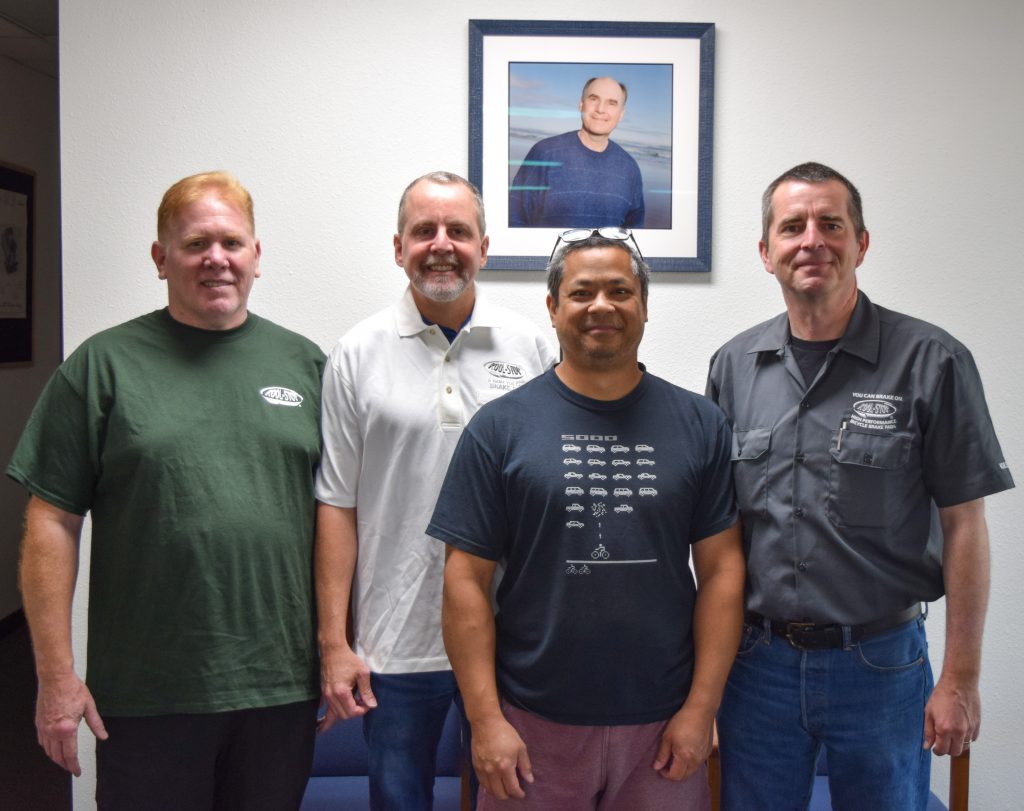 What can riders do to get the most performance from their brake pads?
Maintenance for rim brakes – Cleaning your rims and pads with isopropyl alcohol and making sure your brake track is in good shape is very important. Make sure that the pad to rim alignment is set properly and everything is functioning before every ride.
Maintenance for disc brakes – Cleaning your rotor with isopropyl alcohol and making sure your disc pads are contacting the rotor in the correct location is very important. New pads and a new rotor need to be bedded in correctly. Overheated rotors should be replaced and glazed disc pads should be lightly sanded and replaced if you are getting to the end of pad life. Do not run out of friction material and go metal (pad backing plate) to metal (rotor).
Do you have a favorite bike and where do you like to ride?
I'm old school so I take the high wheel bike (penny-farthing) out for a spin when I have time. Any ride in Oregon is the best place to ride.
What are you most excited about looking ahead at 2022?
Every year is full of fun in the bicycle industry, this will be a great year. Ride safe out there, everyone!