One for the money, Dufur the show
Well the second running of our GRAVEL events is in the books and it was definitely one to remember. As the 350 eager riders rolled into the small community of Dufur, Oregon Friday night, they were welcomed by a huge glowing moon just one day shy of a Blue Moon. Tents were pitched, bike set-ups were compared and contrasted, and free beer from Freebridge Brewing in The Dalles, beer and cider from Double Mountain, and wine from Cycle Oregon was consumed. Anticipation and the smell of s'mores filled the air as the Jager Bumz jammed on into the night.
The weather forecast predicted rain for Saturday, but riders were treated instead to nearly perfect riding weather – not too hot, not too cold, and dry right up until the course was closed for the day. Then it poured for a while, but everyone was too blissed out from the ride to notice.
Day 1 explored rolling fields polka-dotted with blue wildflowers mixed with yellow Balsamroot, past farms, and in and out of canyons. Throughout the day we caught glimpses of Mt Hood and Mt Jefferson looming in the distance, although some high clouds did their best to obscure the mountains' full majesty. Down quiet roads we pedaled through every kind of gravel on the spectrum – big rocks, small rocks, deep rocks, sand, crunchy rocks – and just when you got in the groove of gravel grinding, along came 6 glorious miles of smooth, reinvigorating downhill on Highway 197 through Butler Canyon. Back at camp, a hot shower never felt so good.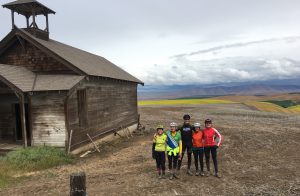 Day 2 was more of the same great stuff except this time featuring more of a choose your own adventure angle to the route. There was a 63-mile long route, and a 33-mile short route, or riders could cobble together their own version of a medium route. The sky was a bit overcast and it rained on and off in spots but some lucky folks timed their ride just right and missed the rain altogether. For many, the highlight of Day 2 was the number of incredibly photogenic weather-beaten structures we passed by. These historic buildings seem as though time has moved on without them, yet they remain a striking part of the landscape still standing right where they were built, a symbol of Oregon's pioneering heritage. With the potential for some respectable elevation gain, this ride wasn't a walk in the park. But for all the screaming quads, the smiling faces told the real story.
It takes a special kind of person to love the challenges and rewards of gravel riding. And for those people, this weekend was all kinds of right. It was indeed, the right kind of grind.
Oregon's a big place and there are many more miles of pristine gravel roads to explore. We can't wait to see where next year takes us!