If you've been to any of our events, you know that the good folks at Bike Gallery are always on hand, both at camp and on course, to dial in derailleurs, adjust pedals, and to diagnose and fix all matter of general bike gremlins. We talked to one of our favorite bike mechanics, Sterling Hill, and asked him about what we can do for our bikes to make sure they're in tip top shape before any long ride.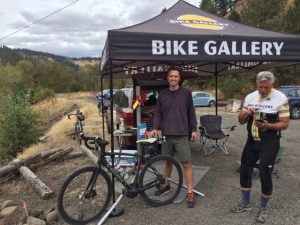 Background: Sterling has worked with Bike Gallery since 2010. He has moved up the ranks from basic Mechanic to Service Manager to Assistant Manager to Store Manager to Director of Sales. He has been helping out with the Classic since 2012 and Weekender since 2010. Almost a decade of service!
Favorite Rides: "Since moving to Portland in 2009, I have fallen even more in love with mountain biking.  Any trail on Mt Hood is worth a try. With Timberline Lodge starting lift access this summer and the already epic trails around it, Portland is about to become a mountain biking destination.
I do still love a good road ride because you don't have to get in a car.  I'd take Upper Nestucca River RD out to the coast or ride out in the Estacada area any day".
What bike things should everyone do before they head out on an event like Classic? 
"Have a professional mechanic look it over and let them know you are about to go on a week-long bike trip.  Fresh tires and tubes, a new chain, and new handlebar tape will allow you to enjoy the ride and not deal with repairs during the ride".
What annoys bike mechanics more than anything?
"Working on repairs that could have been taken care of before the ride".
If nothing else, be sure to _____ your bike often.
"Air your tires and lube your chain (then wipe it down so it doesn't get too greasy, this also helps clean it) on a regular basis.  Then just have a professional mechanic look at your bike at least once a year".
What should everyone carry with them in their seat bags?
"Everyone does a great job with their flat kit but an item they don't usually have is a spare derailleur hanger.  Derailleur hangers are typically unique to that model and are meant to bend or break before everything else breaks".
There will be several gravel options. Any tips on tire pressure/ tire size? And if you had to take one tire for road and gravel sections, what would it be?
"Tire size and pressure depends on the rider and the tire.  Heavier riders would want bigger tires and higher pressure. This is where a rider should try a couple different tire pressures on similar rides so they can tell for themselves what is best. 
My personal preference is Bontrager's GR1 gravel tire or Continental's new GP5000's (32c size!)"
Got any pro tips for us?
"I see a lot of people inflate their tires/tubes with the valve in the 6 o'clock position, closest to the ground.  I find it a lot easier to inflate with the valve higher, more in the 12 o'clock position. This allows you better access to the valve and you do not need to bend down as far".
"Also, when you shift the front derailleur, easy up on the pressure you are applying to the pedals for just half a pedal stroke.  This will take off some of the tension on the chain and will allow the front derailleur to shift smoother and faster".
Big thanks to Sterling for all the great tips and all his hard work! If you see him out there on the Classic working on bikes, be sure to say hi and give him your appreciation in person.