Lindsey Voskowsky is to be thanked for making Cycle Oregon look so good. She is a rider and friend of the organization who contributes her time and talent as a graphic artist to produce all sorts of designs we require across our range of events and programs. But she also makes you look good through her work in designing our event jerseys. You've seen the 2022 designs on our event pages but we thought you might want to know more than just what they look like so we asked her to give a little background on each event design.
---
"This year's Classic is exploring one of the Seven Wonders of Oregon, and I just knew the jersey had to incorporate a representation of the Painted Hills. Instead of finding a photograph of the hills that would translate well to the jersey, often they do not, I decided to represent them and their colorful layers as interlocking abstract shapes. "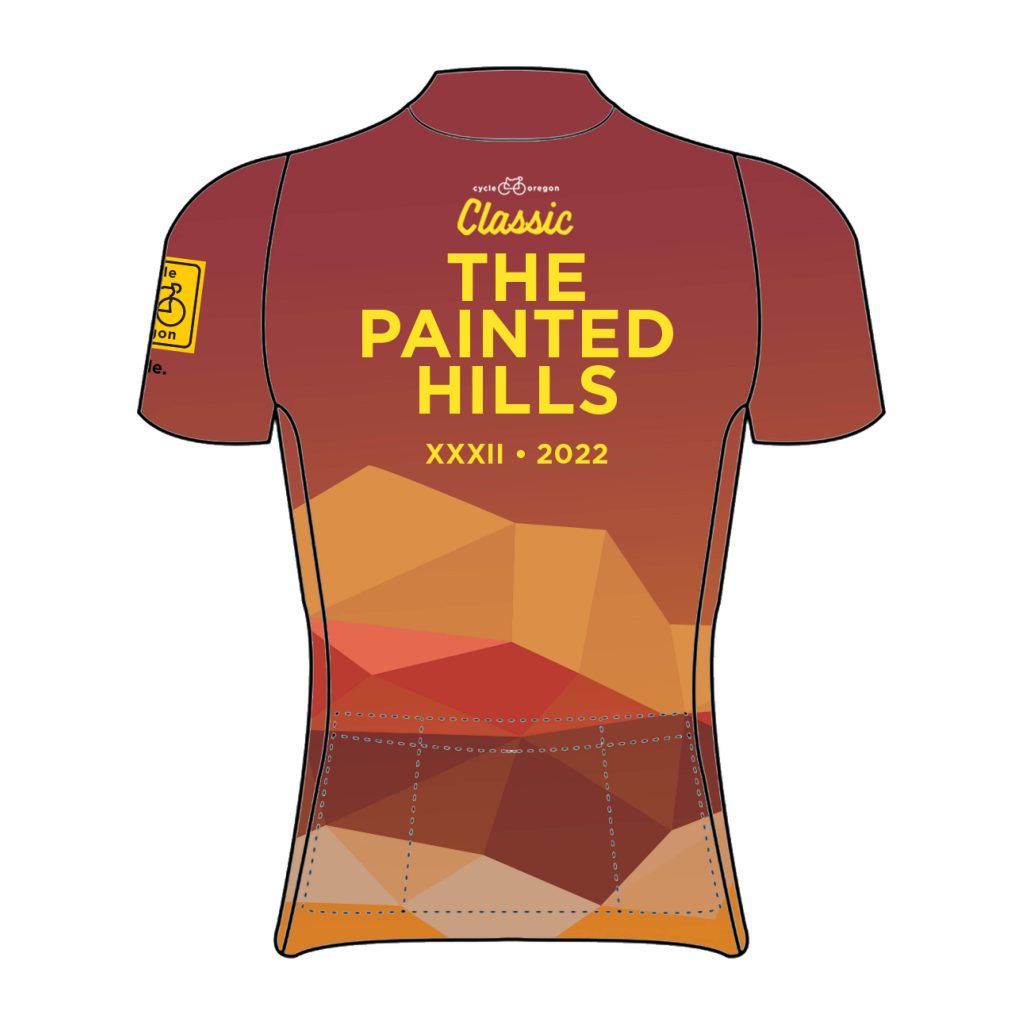 ---
"GRAVEL is all about exploring the rugged, lesser-known back roads of the Oregon Coast Range. This year's jersey features the colors we'll see, forest green and ocean blue, with a topographic pattern representing the exploration of adventurous terrain. The subtle splatters on the sleeves are a nod to the muddy conditions sometimes found in the region."
---
"Joyride is a chance for women of all walks of life to ride together and enjoy each other's company in a beautiful part of the state, Independence, Oregon. I wanted this year's jersey to be a little less flowery and incorporate some fresh, new colors. The dot patterns represent an energy burst from the joy that is shared on this day."
---
"WEEKENDER is all about fun with friends and family, and connection. I was inspired by a "popsicles at summer camp" kind of vibe for this bright jersey. With all the different personalities and age groups that attend this awesome event, using a variety pack of colors made sense. Just like those tasty, icy summer treats!"
---
Our jerseys are made by Primal, a longtime supporter of Cycle Oregon, and constructed from their lightweight, double-knit SpeedPro fabric in a Standard Fit or Women's Sport Cut Fit models with a full-zip front. Raglan sleeve design allows plenty of room in the ride position and three rear pockets hold everything from packable jackets to snacks. Sizes XS-3XL.