Cycle Oregon would like to welcome Oregami Luggage as a 2017 sponsor! This company is a natural fit for CO because it is based in Oregon and they share our love of cycling as well as our philosophy of giving back to communities all across this great state.
In fact, as a special way to say thanks to the behind-the-scenes heroes of Cycle Oregon – the people working the radios, roads, rest stops and camps – Oregami Luggage is providing all volunteers on The Classic with one of their amazing duffels.
Co-Inventors David Kao and Rick Christen created an ingenious foldout configuration that gives you immediate visibility and access to all your stuff. Cycle Oregon was central to the inspiration for Oregami Luggage, it was also where they did Research and Development. Rick and David, both avid cyclists themselves, loaded up their invention with bibs, jerseys, water bottles, lots and lots of gear to put their luggage to the test on Cycle Oregon in 2013.
The results, after 7 days of high school wrestlers tossing their bags in and out of trucks, were overwhelmingly positive. The bags held up beautifully and they cut down on searching for things in a tent by flashlight and then getting frustrated and flinging clothes everywhere by nearly 80%.
"We are building something that uniquely meets the needs of outdoor adventurers like your riders," says David Kao, co-founder of Oregami Luggage. "And we are doing it with the hope of building an Oregon company that embraces the values many of us have grown up with–innovativeness, adventure, curiosity, independence and authenticity."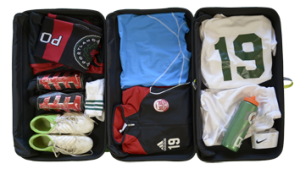 Developed with the activity-based traveler in mind, Oregami luggage looks like most other rolling luggage you'd see on any airport baggage carousel, but, as every good mom will tell you, it's what's on the inside that counts.  The days of packing, unpacking and then re-packing a duffel bag just to find a clean t-shirt are over my friends!
Oregami wants every Cycle Oregon rider to know how great their bags are so they have lined up a few promotions. The first offers 50% off the price of a new bag for CO riders–just go to oregamiluggage.com and use the code FREERIDE at checkout.
The second promotion is a Free Ride Contest that they are sponsoring. Up for grabs is one free registration for this years' WEEKENDER as well as a free registration for The Classic.
Check out the bags on their website and look for them this summer in a Cycle Oregon tent near you!