Rohith Gunawardena's profile on his photo site tells us he is a "cyclist and amateur photographer who loves to take pictures of flowers, faces, and people on bicycles". If you've ridden a Cycle Oregon event in the past decade you, no doubt, have seen him out on course or around camp clad in cameras and gear and that irrepressible smile. Rest assured, though, that if you haven't seen him that he's seen you. As Cycle Oregon's official Volunteer-On-Ride-Photographer Rohith captures all the moments that make Cycle Oregon so special.
Originally from Sri Lanka, Rohith came to Oregon in 1979 to pursue graduate studies in Environmental Science & Engineering at the Oregon Graduate Center. As an Atmospheric Scientist he tells us he specialized in Ultra Trace Analytical Chemistry "measuring almost nothing" in his cool, humorous style. The second half of his career kept him in Oregon where he "pushed polygons" at Intel as a Microprocessor Layout Designer until his retirement in 2015. He un-retired soon after to be a Layout Designer but retired, (again), for good in 2017.
For September, aka Classic month, we asked Rohith for his take on My Favorite Route and he came back with a full week. Given how hard he works at a Classic ride it's no wonder it must all seem like one continuous event. (He sure seems to keep finding ways to not be "retired") Here are the "people on bicycles" from Rohith's favorite route, Cycle Oregon XXIV – Going Coastal in 2011.
My Favorite Route – Rohith Gunawardena
Cycle Oregon XXIV (2011) – Going Coastal / Sutherlin to Riddle
Maybe I am a little biased because this was my very first Cycle Oregon. All the options added to 499 beautiful miles in 7 days of riding. This in an area of Oregon I had not seen before, and at a pace I could enjoy all it had to offer. Beautiful forests, coastal views, fighting head-winds, challenging hills, campsites with no cellphone access, Umpqua Wine Country, and all the beautiful people. I rode each and every single mile, with my full frame DSLR in its bag strapped on to the aerobars for easy access.
I was so excited about doing my first Cycle Oregon that I got to Sutherlin a day before the other riders; I wanted to test my legs as I was sick the entire week before. Got stuck on I-5 for several hours because of a brush fire. Oh, well.
Since I was there a day early it was interesting watching everyone coming in, unloading their bags, bicycles, getting their bicycles assembled, putting up their tents, and more than anything else, making new friends. Many volunteers were among these new friends that made my becoming a volunteer photographer in the following years even more enjoyable.
Day 1: Sutherlin to Cottege Grove – 70 miles
I rode with three of my training buddies, Michael, Carolyn, and Janet. When the day started, I was not quite sure how I would survive the first day, but by the time we got to Cottage Grove I felt good. Even though it was warm, I did the option ride that added 23 miles. I am glad I did, because that option gave me confidence.
Day 2: Cottage Grove to Reedsport – 90 miles
This was the longest leg of the 2011 Classic route but it was beautiful! I had stopped to take photos of riders coming up a tree-covered winding road and noticed a rider picking blackberries. I asked where she was from and she said her name was Alice and she was from Idaho. I called her "Blackberry Alice from Idaho" from then on and she is someone I see regularly at Cycle Oregon. A few years later she saw my son at a ride in Monterey, California and said "You must be Rohith's son". Yes, Navindra looks like me and was wearing his Cycle Oregon ride shirt. She smiled and said, "Tell your Dad you met Blackberry Alice from Idaho"!
Day 3: Reedsport to Bandon – 76 miles
The start of the day was a little misty, typical coastal weather. At a rest stop, ran into a feisty Bulldog that apparently disliked cameras. I nearly got what was coming to me from that ferocious beast! Maybe, though, it was my outfit? This was the day that I was called by all sorts of "yellow" names- "Banana Man", "Banana Slug", "Yellow Submarine", but the best was "Sunshine"- all because of my bright yellow tights and jacket. Seven Devils were quite a challenge but I conquered them all! Riders were greeted entering Bandon by a beautiful sculpture and a series of bikes on the side of the road, all painted in pink.
Day 4: Option Day – Bandon to Port Orford – 67 miles
Beautiful day for the optional ride and a little detour to Cape Blanco made it perfect. The lighthouse looked absolutely beautiful on this day. As always, the Candlelighters were out in full force riding for a great cause. I snapped a fun picture of a few of them goofing around at a rest stop. Such a great team of riders each year at Cycle Oregon. But no team for me as I rode the 28 miles north back to Bandon mostly on my own against a strong headwind. Since I stop often to take pictures there was no one to share the burden of pacelining to fight the headwind. But in a group I would have only seen the rear end of the rider in front and missed all the beautiful sights on that ride back!
Day 5: Bandon to Powers – 60 miles
The signs on the side of the road were so cute. There were similar table decorations in the dining tent. When we entered Powers, we were greeted by a wonderful couple, The Royal Couple of Powers?
Day 6: Powers to Riddle – 85 miles
Absolutely beautiful scenery. I got stung on the top of my head through a vent of my helmet by a Yellow Jacket. Fortunately I had a Benadryl stick. Thinking about it 9 years on and it still hurts and itches a little bit.
I almost always call my wife every night on Cycle Oregon but I didn't from Riddle as there wasn't much cell reception. And she was worried. To make matters worse, our daughter told her, "He may have run away with one of his riding buddies". She called my son, who was away in grad school, who just chuckled. He knew there are "quiet cell zones" on Cycle Oregon and that it can be a good thing for those of us out there. Still, I'm sorry to make her worry but I love that my kids (and my wife), understand the joy I find in being way out there with my Cycle Oregon family.
Day 7: Riddle to Sutherlin – 52 miles
This was a beautiful ride with all the rest stops at the fantastic wineries of the Rogue Valley. There was wine for tasting though I didn't drink and ride. A friend said to me, "You must have been the only one". There were all sorts of cute sayings printed on boards leading to these Winery Rest Stops. The most memorable of them all said "Que Sirah, Sirah". I rolled up to a rider from Alberta, Canada who had blown his tire and said he was beyond help. He didn't know I carry a spare tire and with just a few miles to the finish line was able to complete the route with my spare. It felt wonderful crossing the finish line on my bicycle after completing 499 miles in one week, carrying my DSLR.
The staff, volunteers, riders and everyone involved as well as those that I met along the way have made Cycle Oregon what it is, SPECIAL! I have made so many friends through the years; first just as a rider and then as a Rider/Volunteer Photographer. This is a must for all cyclists.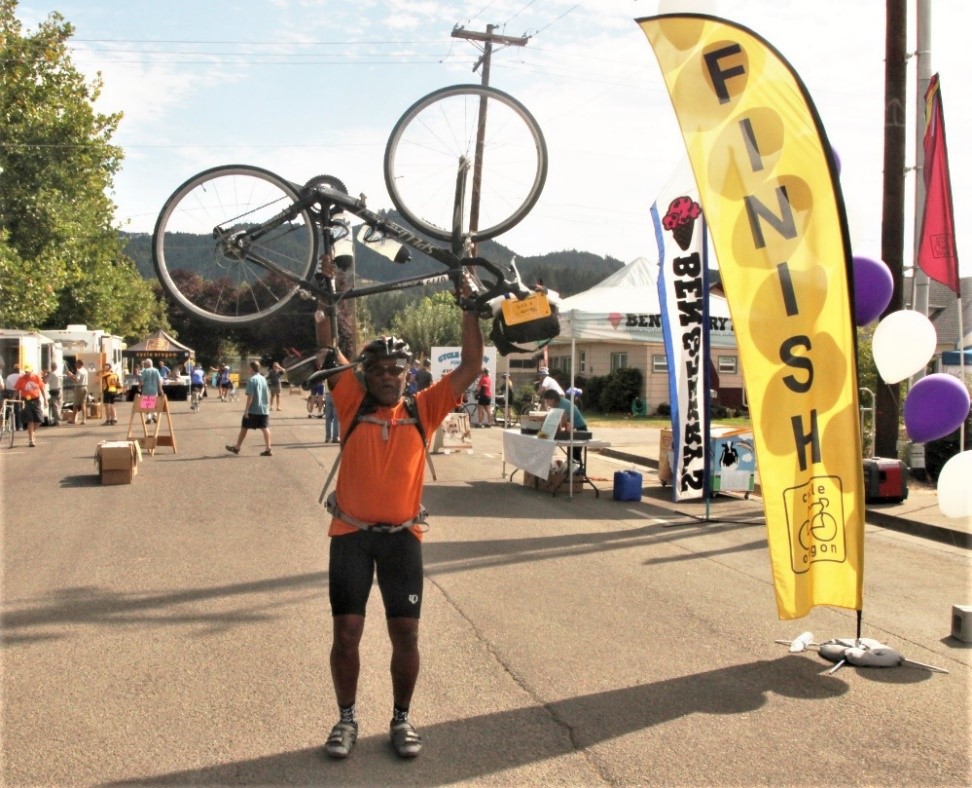 "If you are on a bicycle, smile when you see me!"

Rohith Gunawardena