Our My Favorite Route series continues with Megan Moseley and an interesting day on and off the bike at the 2019 Classic. The founder of Portland-based Bodywise Physical Therapy, Megan has been a supporter of Cycle Oregon events since 2008 serving on our team as Physical Therapist and through her online video series and blog posts. Like many of the best ride memories, her favorite day is much more than simply the pedaling. In her look back at Day 3 of the 2019 Classic, Megan introduces us to the riders, volunteers, and community members whose enthusiasm shined through wet, grey skies.
My Favorite Route – Megan Moseley
Cycle Oregon 2019 Day 3 – Tumalo to LaPine
When Cycle Oregon asked me to share "My Favorite Route" this month, I immediately knew I wanted to write about some of my most memorable experiences on the 2019 Classic. This was bound to be an amazing ride given that it was the 30th Cycle Oregon anniversary re-do since we missed the 2017 version of the route due to fires.
We started in Oakridge which is where my close friend and (remote) office manager lives. Jenn is one of my favorite peeps in the world, and although we talk multiple times per day, I rarely get to see her. It felt like a gift to be able to have her there to share the experience of a Cycle Oregon camp, meet people she has heard me speak of for years, and feel the excitement of the adventure we were about to embark upon.
I have been with Cycle Oregon since 2008, when I joined as their Physical Therapist. My role is to help educate riders about stretching and injury prevention with videos and articles you can find on this site, as well as offer an in person class on Day Zero. The best part is I ride every day. After I return to camp from the road, I work with the medical team offering free injury consultations and interventions to keep riders on the road. After 13 years I have gotten to help so many of you. My favorite thing is to get a shout out on the road from someone I helped earlier in the week sharing how they miraculously recovered, and are grateful to be able to complete the ride.
There are so many beautiful routes and memories, but what keeps bringing me back is the spirit of the people. Cycle Oregon is about connection and community and never have I seen this more exemplified than the third night of our 2109 Classic ride. We've been immensely fortunate with the weather on all my Cycle Oregon adventures since 2008. I'd heard of weather challenges like snow storms in years prior, but never experienced it myself. I guess it was time that we got some rain, but on and off for the first 3 days? Really?!?
As we got to La Pine, I saw people huddled in the beer tent, and a few braving the weather to grab pizza. The sun peeked out a bit, but I was already soaked. It wasn't long before the rain started again, and we found our bags with puddles of water on the inside. My bag was waterproof but my friend's was not. He didn't have a single dry thing and the rain was not letting up. I had an idea to find a laundromat so we could dry his clothes and gear. My Google search came up with the La Pine Laundromat.
Established in 2001 and currently the only laundromat in town, the La Pine Laundromat is a coin-operated laundromat with 22 front loader washers and 20 gas dryers. This sounded warm and dry and amazing!
I realized it was nearly closing time but decided to leave a message. Two minutes later Debbie Prell, the owner of the laundromat, called me back saying she was happy to help and was willing to stay open as late as we needed. We made our way to rider services to share the news with other wet riders coming in from the road. Come to find out, we were not the first people with this idea.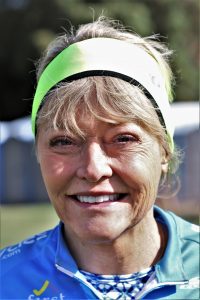 We found Cycle Oregon volunteer Julia Anderson, a fixture of the Green Team, happily running shuttles to the laundry. Before long there were lines of people waiting to go in with hopes of having clean, dry clothes again. Debbie Prell got in on the action herself, and began running shuttles for the riders to and from the laundromat. Her co-workers Julia and Karen came in to help, saying "this is right up my alley!". They were there helping riders until 10:00 pm that night. The community that this ride inspires is an amazing thing.
Finding the laundromat was a huge win for us because it was far from warm that night, the rain continued and eventually turned to snow and sleet, but having dry clothes and gear made the difference. We awoke to our bikes literally frozen together with icicles dangling from the seats. The air was heavy and people were cold but most were still smiling, laughing, and bundling up for the long ride ahead. I love witnessing this resiliency and camaraderie at Cycle Oregon. We were even further connected by our shared laundromat experience.
Diamond Lake was our destination and camp there was beautiful, warm, and sunny. More opportunities for dry clothes!!! 🙂 It felt like a such a gift after a few days of cold and wet. Everyone was in a good mood and excited for the layover day with Crater Lake options. We woke to a gorgeous view of fog on the lake as the sun began to peek out promising a shift in the weather and warmer days ahead. Many of us took chairs down to the lake to eat breakfast that morning.
Given it was layover day, everyone was excited to plan their own adventure. My crew opted for a more casual day. We started late, (as usual), enjoying our camp and loving the fact we didn't need to pack up by 8:00 am. We rode up to the rim, talking the entire way, stopping at nearly every scenic overlook, visiting with other riders, and taking pictures. Our initial plan was to have lunch at the lodge, but their was a bit of a wait, so we did a self guided tour through the hotel and then made our way back down. It was an absolutely stunning, perfect day, and as usual, the most memorable part was the people.
Bodywise Physical Therapy was established by Megan Moseley PT, LMT in 1995. What started as a one room office in the Downtown Athletic Club in Eugene, Oregon has evolved into a thriving practice in Portland, Oregon.