GPS stands for Global Positioning System, the satellite-based navigation system developed and operated by the United States Government through the United States Space Force. A constellation of 31 satellites orbits the earth providing radionavigation and geolocation to users with a GPS receiver with nearly 3-meter accuracy. Fully operational since 1996, GPS has long been open to civilian use for recreation and since 2007 an Oregon-based company has been helping cyclists the world over to "go on better rides, more often".
The Ride With GPS office is located at 45.5356° N, 122.6588° W. That's the Lloyd District neighborhood of Portland, Oregon. While a mailing address will give reference to where the front door is, with GPS geolocation and mapping you can plan a riding route from wherever you are to there. Or from there to anywhere else. Or from anywhere to anywhere. The Ride With GPS app and website allows users to build cycling routes with turn-by-turn navigation, track rides, share routes, and even use maps offline. It's a free app with additional premium services available to buy and an impressive 4.7 out of 5 rating.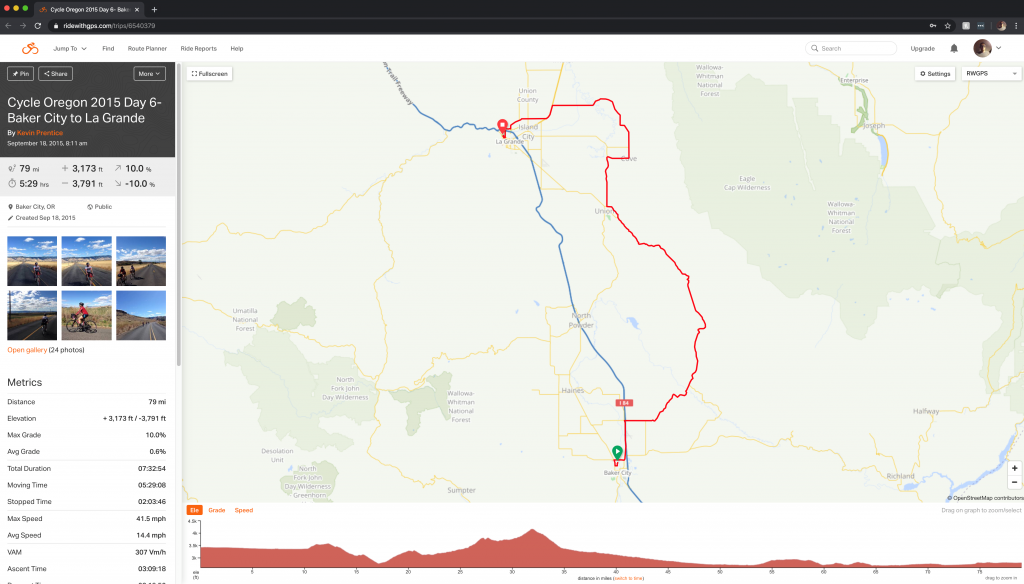 We're fans of the company for reasons far beyond them being hometown heroes. Started by two software experts who loved riding bikes together, Ride With GPS has become an important tool we use here at Cycle Oregon. We've also seen how popular their app is with many of our riders who take advantage of route downloads prior to events. While we work hard to put signs all along our course, it's reassuring that riders can chart their ride independently throughout each day. Best of all is that Ride With GPS works great with just a smartphone, too. 
(Click here for a free download link to get Ride With GPS.)
In the app you can add photos, comments, and detailed points of interest from routes. Not only is this great for keeping a detailed journal of your rides but it allows you to share the experience with friends. And that's what we will be doing here with a regular feature launching today called My Favorite Route. To get us, ahem, rolling, is Kevin Prentice, who heads up Product Strategy & Marketing for Ride With GPS.
My Favorite Route – Kevin Prentice
Cycle Oregon 2015 Day 6- Baker City to La Grande
"For me, this route is great for so many reasons and remains as the most exciting and diverse route of the trip we did that year. Stunning views as we climbed up to our first rest stop at the Ponderosa Store and a sweeping forested descent down into our lunch stop at Catherine Creek State Park. Then a pleasant ride into the town of Cove, one of the most quaint and charming towns I've been to in Oregon. So charming that, even after a long hard ride, a group of us still stopped for Coronas and chips & salsa, lingering as long as we could. The final 20 miles were tucked between towering ridges and beautiful farmland, delivering us into La Grande for our final night of the ride."
"I exclusively use my phone, currently an Apple iPhone X. First, I don't have to spend hundreds of dollars on a cycling computer to do what my phone does, and second because I am familiar with my phone. I already bring it on every ride, so why bring 2 devices, right? I don't  worry about battery life because I can still get full functionality with my phone in airplane mode. If I'm navigating I just download my route for offline use before I head out, then toss my phone in airplane mode and record, navigate, get a fully functioning map, and paired bluetooth sensors and my phone lasts all day."
"As for a particular feature I like most, it would probably be estimated time (my wife would agree as well). When planning your route we'll give you estimated time based off your personal ride history. If I am navigating with the app we give you a precise, real time ETA to complete your route. After 10 minutes of riding we use that rides history and current data to constantly update the estimated time. If you slow down, the ETA gets pushed out. Stop for lunch or some cake? Same thing. Feeling good and the watts are high? It will update to account for your early arrival. Plus, if you are live logging with the app, you can share a link so friends and family can track your progress, and they will also be able to see that updating estimated time as well, so everyone can be on the same page."
Thank you, Kevin!
Got a favorite Cycle Oregon route? Tell us about it in the comments below, please.