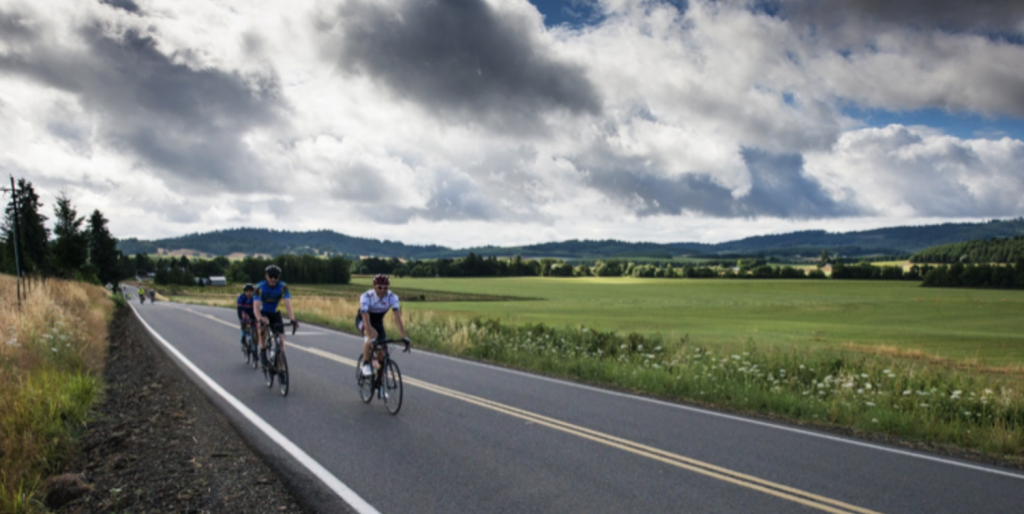 It's that time of year when we all start receiving mail with letters from loved ones detailing everything that happened in 2017. Well, since we're family, here goes.
While it was difficult not to be on the road for the 30th running of The Classic, June and July saw the return of two great events – Joyride and WEEKENDER.
Joyride was held once again out at Stoller Vineyards and even though the weather was soggy at times, spirits couldn't be dampened. Nearly 1,000 female riders of all ages and abilities had a blast out on the course. Corner kept the place jumping with their danceable rhythms and harmonies, the locally sourced lunch was delicious, the wine was flowing, and the fresh berries and biscuits were to die for.
In July, WEEKENDER rolled into McMinnville and the Linfield College campus for our annual two-day bike bash. Many new riders were introduced to how Cycle Oregon puts on an event while many others riders were making triumphant returns. On opening night Nayibe Rojas, the diminutive dynamo of a lead singer for Ma Fondue, dropped a funk bomb on the quad and got the crowd grooving well into the evening. The Junebugs took the stage Saturday night and played a cover-heavy set best enjoyed over a freshly baked slice of pizza, a cold Hefeweizen and a slab of cake from the cafeteria. Everyone enjoyed nearly perfect weather on fantastic routes and as far as we know no one's underwear was run up any flagpoles.
Finally, as a nice way to ring in the holiday season, our friends at Bike Gallery and Nossa Familia led a group of hearty individuals from Cycle Oregon headquarters to Bike the Lights at Winter Wonderland. Combining the best parts of SantaCon and a peloton, this course decked out in lights and holiday decorations was open for one night only exclusively to bikes – no cars allowed. Glowing lights, glowing spirits and plenty of crisp, fresh air – this event has all the markings of a tradition in the making.
As we approach the close of 2017 and our first 30 years as an organization, just a note of thanks to all of our riders, volunteers, sponsors and partners through the years – we've been glad to have you all along to ride with us. We are cranking full speed towards 2018 with an amazing season of riding ahead, including a new event that is sure to get riders' blood pumping. The details of all the 2018 events will be announced at our Kickoff at the Portland Art Museum on January 31st, 2018. We hope to see you there!