From the "Our Mission" page – "Proceeds from the ride go to the Cycle Oregon Fund, which helps preserve and protect the special places of Oregon and supports community development projects in the regions through which we ride."
With a $6000 grant to "strengthen Indian programming through greater coordination with tribal entities" as one of ten 2019 Cycle Oregon Fund Community Project Grants, the Josephy Center for Arts & Culture in Joseph, Oregon held high hopes for 2020. Rich Wandschneider heads up the Josephy Library and Native Programs and tells us that last year, "was going to be a breakout year." In yet another another fantastic story of resilience we believe you'll agree with us that the Center did, indeed, have a breakout year and more.
The Center's ambitious plan was to, "Start off with a show of Native Art curated by a Nez Perce artist, and later, in cooperation with Wallowa Nez Perce Homeland we would bring several tribal elders to the Wallowa to talk about language, religion, natural resources, and tribal government. We had a banner crew of elders lined up."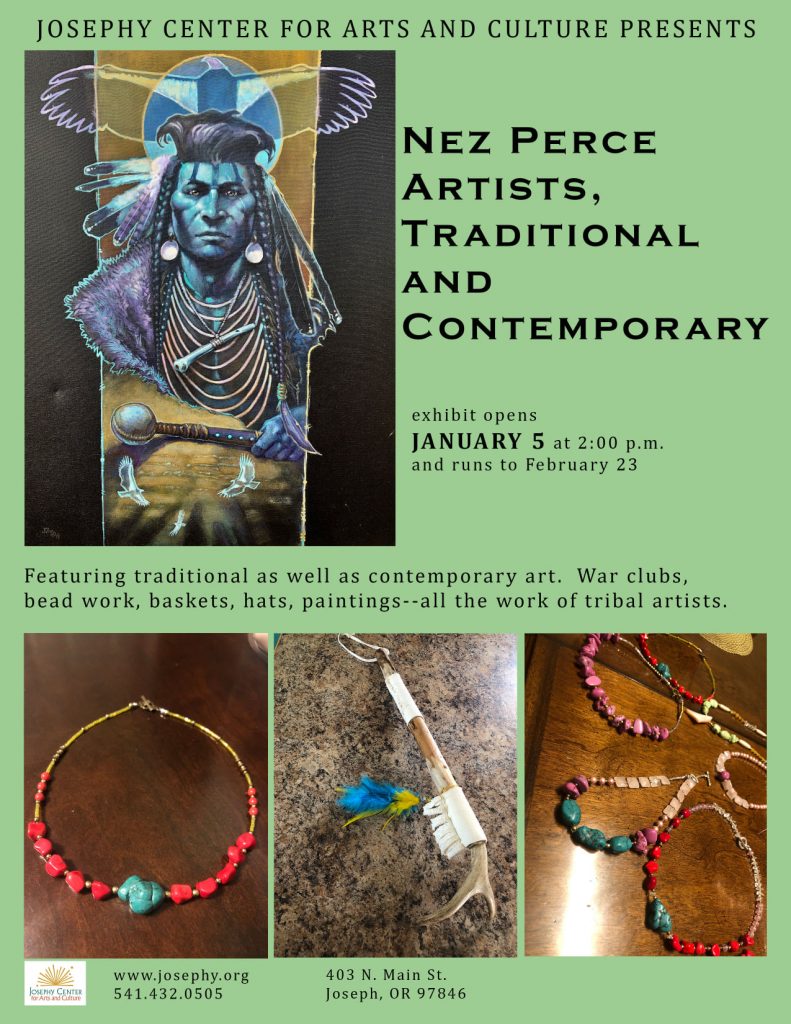 Their January event was held according to plan just as most of the world was coming to hear of COVID-19 for the first time. Stacia Morfin assembled a collective of six Lapwai artists whose work would be showcased over six weeks and kicked off with a gala opening. "With the Cycle Oregon grant we paid Stacia to curate and we were able to cover travel expenses and lodging so that the artists could come here and present their work," Rich adds.
Further, he adds, "It was a wonderful show. The opening was well attended for a winter event, and we were treated to artists in traditional clothing, which they explained to the crowd. Stacia also demonstrated and explained "traditional" and "jingle" dancing, and gifted artist Kevin Peters talked about traditional and contemporary Indian art. In the end, we did sell art as well, enough to make artists happy and see future possibilities."
Riding the wave of the January show's success, the Center spun off a February beading workshop with artist Roger Amerman. It, too, was a hit but as social distancing became necessary across the state it would be the final in-person event of the year. The plan for a breakout year would now see some changes and tremendous work by the staff, board, and community of the Center.
About March 2020 Rich says, "Covid hit us and everyone in the spring, and after talking with Nez Perce Homeland and the elders we had lined up to visit, we decided that we just could not go forward. A primary goal of the program was to bring Nez Perce people back to their homeland to talk about place names, spirituality, and natural resources here. The added concern for the virus among Native people, who remember generationally the impacts of pandemic diseases, from first white contact through the flu of 1918, was palpable. We regrouped."
With the remainder of the year to plan, the Center once again connected with Roger Amerman not as an artist but as a geologist. The outcome is an Ethnogeology program in development for the Center that will also include preeminent Pacfic Northwest geologist Ellen Bishop. Rich tells us, "We'll gather elders and scientists to look at Wallowa landscapes together, and to talk about geographical and geological features as we record the Elders with their stories of usage and origins. Cycle Oregon grant money helped us adjust our plans and start planning this new program."
Looking ahead, the Center will be producing a July 2021 exhibit on Nez Perce Treaties. Rich Wandschneider will co-curate the show with David Liberty. Visit the Center's website for more information on this upcoming show. Rich adds, "If we are still locked down, we will make it a virtual show, something we have made rapid progress in doing these last six months!"
If you would like to contribute to the Josephy Center for Arts & Culture, a 501(c)(3) non-profit organization, you can do that here.
Follow the Center on Facebook and Instagram, too.