From the "Our Mission" page – "Proceeds from the ride go to the Cycle Oregon Fund, which helps preserve and protect the special places of Oregon and supports community development projects in the regions through which we ride."
The Maupin Area Chamber Endowment received a $10,000 grant as one of one of ten 2019 Cycle Oregon Fund Community Project Grants. Their bold project to "Renovate the Deschutes River Athletic Complex" includes a world class track & field facility along with a football field and the supporting infrastructure to host local and elite level events. And all because high school hurdler Holly Miles asked her parents, "Why don't we just get a real track?" after one too many practices cleaning cinder from inside her shoes and socks.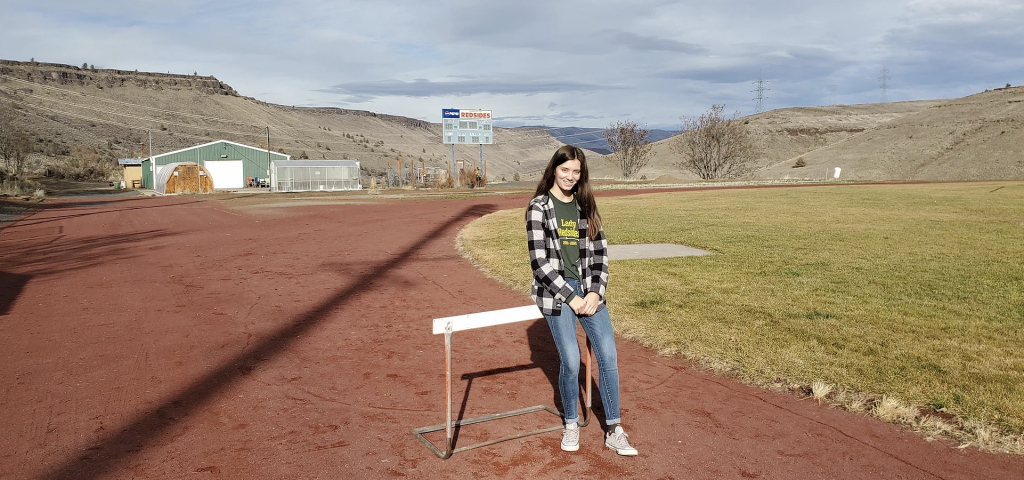 South Wasco County High School's track is located across from the school entrance on 4th Street in Maupin, Oregon. The view is wonderful, an east facing ridge with the Deschutes River and Shearers Falls Scenic Bikeway just below. The track's placement on this ridge meant less-than-ideal track conditions throughout the year- loose cinder gravel with ruts and puddles- and it's odd shape dictated a non-regulation distance. The Redsides have not hosted an official meet on their home track since 1974.
Holly's question to her parents was one that many others in the Maupin community wanted to help answer and soon the DRAC became of interest across the state and beyond. Fundraising to kick off the project came from Cycle Oregon and others and then quickly saw support from world-class athletes and companies such as Nike. The media showed interest and then the voters showed even more with approval of a school bond measure in 2020. From their website, "South Wasco County residents are proving that, 'Yes!', they are looking to a positive future."
But before there can be a better track surface or an infield for football or stands for fans that ridge needed shoring up. Initial fundraising efforts, which included our grant, led to the planning and execution of the embankment work to establish a proper footing for the 200m corner so that the track could be built to proper standards. Local ranchers, the Warnock Family, donated 5000 yards of rock fill to shore up the project with the work completed by the Oregon National Guard through an Innovative Readiness Training event. On solid footing in late 2020, the project is shovel ready for the specialized contractors to come in for the detailed work of preparing the final track surface. The DRAC team expects to begin construction in April with the goal of hosting an event this fall.
We are proud to support this project and we encourage our community to visit Maupin, ride the Sherar's Falls Scenic Bikeway, and check out the DRAC while you're there. Let's give these Oregon kids a real track!
Visit maupindrac.org to donate