Classic 2023
WINE. WAVES. WONDERLAND.
About
Now is your chance to ride the iconic 7 day Classic for the last time! Whether you are a first-timer or a long-timer, this will be an experience like no other. Join us on an unforgettable ride traversing the Willamette Valley wine country and iconic Oregon Coast.
You crave the wide-open landscape, the silky-smooth single lane roads, the forested canopies, the soundtrack of a river as you pedal along, those postcard worthy views, and those friendships made and nurtured. Yep, you crave the Classic every September. We're right there with you.
The amount of geographical wonder packed into the 295 by 395-mile rectangle we call Oregon is unparalleled. And for over 30 years Cycle Oregon has been exposing you to the sights, sounds and people of this wonderland. And still, there are roads and communities we have yet to experience – until now. This year, we're taking you on an all-new adventure, with new routes, new communities, and new experiences.
Oregon is known for its amazing wine culture, its deep green forests, and its breathtaking coast, and we're going all in. We'll immerse ourselves in the picturesque fertile flatland of the Willamette Valley – the epicenter of Oregon's wine country – as it showcases the vine-covered foothills and pastoral farms of its agricultural roots. With over 700 wineries scattered throughout the valley, you're sure to stumble on a new favorite. And what goes hand in hand with a little wine? How about heading out for some waves and a sunset on the Central Oregon coast, with its quaint historic coastal towns, distinct coastlines, and awe-inspiring views. With more than 30 State Parks and scenic viewpoints, you'll be mesmerized by the iconic rock formations, coves, and tidal flats of the Oregon coast. And with back-to-back layovers at the Coast, you can ride along the coastline, wander through historic waterfronts, kick back in the long stretches of uninterrupted sandy beaches or indulge your inner surfer. Whatever your jam is.
Wine. Waves. Wonderland. It's time to indulge your cravings. This is Oregon. This is Classic, for one final and fantastic time.
The Ride
Date: September 9 -16, 2023

Mileage: 350 - 454 mi. with options

Climbing: 14,814 - 21,393 ft. elevation gain with options

Cost: $1385 early registration (through June 13) • $1450 (June 14 - Aug 28) • $1500 (onsite; limited availability)

Registration is limited to 1350 participants
Route
SUNDAY SEPT 10
DAY 1 • ALBANY TO CARLTON
MILES: 74.0
ELEVATION GAIN: 1,810′
Today we finally satisfy our cravings as we begin our week of wonderment. The perfect shakedown route cruises the flatland of the Willamette Valley on portions of the Willamette Valley Scenic Bikeway. We'll pass farms, orchards, hop fields, and acres of wildlife refuge. We'll pause in the uber-bike-friendly community of Independence on the banks of the Willamette River for a little small-town goodness. We'll roll through the foothills of wine country and its picturesque vineyards and tasting rooms. Are we in France? Italy? Nope, this is Oregon. And this is just Day 1
MONDAY SEPT 11
DAY 2 • Carlton to Cloverdale
MILES: 54.6 | Hill Climb Option: 59
ELEVATION GAIN:  3,261′ | Hill Climb Option: 4,450′
This is the day we pass through a geographical portal, as wide-open views transform into blissful canopied sweeping single lanes roads. Nature's soundtrack plays in our ears as we follow the Wild and Scenic Nestucca River as it too makes its hidden journey to a new home. Like Alice in Wonderland, we travel the magical rabbit hole to somewhere unexpected. As the canopy opens, the environment shifts – curiouser and curiouser! – is that the ocean on the horizon? Wow. Oregon.
TUESDAY SEPT 12
DAY 3 • Three Capes Ride / Layover Day
MILES: 0 – 65 
ELEVATION GAIN: 3,990′
Layover Day. Here in Oregon we know not to confuse the beach with the coast. Our coastline is wild and unexpected, and you won't find crowded beaches or swarms of colorful umbrellas here. What you will find is miles and miles of wide-open stretches of sand, soaring sea stacks, colorful tidal pools, and nestled coves where you feel engulfed in your own private paradise. But there are so many options today it may be hard to choose what to do. With an out-and-back of mind-blowing views along the Three Capes Scenic Route, you can ride a little, or ride a lot. Surf's up in Pacific City where beaches and brews await just miles away from camp. Or jump in and help with a community project and give back to our hosts. Hang 10 however you want, because regardless of what you choose, it will be a perfect day.

WEDNESDAY SEPT 13
DAY 4 • Cloverdale to Toledo
MILES: 78
ELEVATION GAIN: 4,906′
Today is the day we test our training. Our warmup begins following the Oregon Coast Bike Route as it rolls along the coastline before making its shift inland. From here we sneak back into the Coast Range among towering trees and along classic single lane forest roads. A few climbs in the middle of the day test the legs before a sweeping descent leads us to a gradual rollout towards our next layover site in the burgeoning arts community of Toledo, nestled along the banks of the Yaquina River.
THURSDAY SEPT 14                                                  
DAY 5 • Newport Out and Back / Layover Day
MILES: 0 – 34
ELEVATION GAIN: 1,400′
Layover number 2. Spin out those legs with another 'dealer's choice' out-and-back option. Just a handful of serpentine miles along the Yaquina Bay drop you right into the historic working bayfront of Newport. Stop to shop, eat, and admire this active port of fishing vessels and genuine hospitality. Desire more miles? Keep following the route to its turnaround destination at Agate Beach State Park, where you can again marvel and experience the grand Oregon coast. Or simply kick it in Toledo where you can get to know this waterfront community by perusing its art galleries, specialty shops, cafes, and historic watercraft. Or do all of it – it's that kind of day!
FRIDAY SEPT 15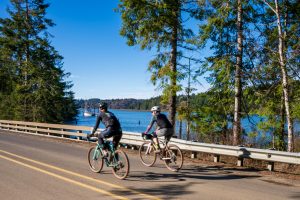 DAY 6 • Toledo to Alsea
MILES: 74
ELEVATION GAIN: 2,998′
It is time to begin our journey back through that geographical portal. Saying hello to Newport once more, we re-join the Oregon Coast Bike Route along Hwy 101. As we pass a continuous stream of State Parks and viewpoints, we can't help but stop to soak in just a little bit more of that coastal greatness. But we must move on so following another stunning waterway – the Alsea River – we're led back into the Coast Range and its quiet forested roads and historic communities.
SATURDAY SEPT 16   
DAY 7 • Alsea to Albany 
MILES: 70
ELEVATION GAIN: 1,839′
The sound of the waves is replaced by the sounds of the falls as we wind our way along the Alsea Falls Scenic Byway following the South Fork of the Alsea River. As we descend through the canopy and thick firs our view once again opens up as we are transported back into the verdant valley lined with fields, farms, and vineyards. The quiet, flat country roads will give us time to reflect on our journey – where we've traveled, what we've seen and the transformative experiences we will forever cherish.
EVENT JERSEY
Our Classic jersey is made by Primal and constructed from their lightweight, double-knit SpeedPro fabric in a Sport Cut with a full-zip front. Raglan sleeve design allows plenty of room in the ride position and three rear pockets hold everything from packable jackets to snacks. Available in Men's and Women's sizing. Also available as a tank, vest, and jacket, click here to add to your order. (Need help adding to your order, click here.)
*jersey design by Lindsey Voskowsky 
Tent + Porter
If you want the star treatment for your camping experience, try the immensely popular Tent + Porter Service. Click here to add to your order. (Need help adding to your order, click here.)
Imagine this: You arrive in camp and skip the trip to the baggage truck. Instead you head directly for a primo camping spot, where a spiffy 9′ x 7′ Cycle Oregon tent has been set up for you. Your luggage is waiting outside. And this process repeats itself every day. Tents fit one or two people, and the service costs $495 for the week. Tents will be the same all week, set up by 2 p.m. each day, marked with your tent number.
Tents are limited and available on a first-come, first-portered basis, so register early to ensure your spot. If two of you are sharing, only one person needs to sign up for the service. One or two chairs will be provided with each tent.
Sleeping bags and pads are not provided, so please don't forget to bring yours.
Getting There
Driving

Cycle Oregon provides week-long parking for riders near the start/finish site. Parking passes are available here for $30 until August. We will post specific directions to the parking area as we draw closer to the event. Driving directions will also be on the parking pass that will be mailed to you in late August. Security is provided from dusk to dawn.

Taking the Bus

You must purchase bus tickets by August 12 to guarantee a space. All buses depart Portland on September 9 at 12 p.m. Return buses will depart Albany on September 16 beginning at 3 p.m. We'll have snacks on the bus, but no lunch. Please plan accordingly.

Buses will depart from and return to the Sheraton Portland Airport Hotel. If you're staying elsewhere, check with your lodging provider to see if they will shuttle you to the Sheraton.

Tickets will be emailed the first week of September. Staging for buses will take place on Saturday, September 9 at the Sheraton Portland Airport Hotel. Volunteers will be available to help load your bike and luggage. To save time and minimize hassle, bikes will not be boxed but will be wrapped in blankets and loaded directly into the baggage trucks. If you traveled with a bike case and it is still packed up, your bike can be loaded on the truck in its case. If you have already assembled your bike, be sure to bring your empty bike case with you, we'll store it for the week at the start/finish location.

Public Transportation

Want to join the ride but don't want to fly or drive?

If you live in Portland, the Cycle Oregon bus from the Sheraton Portland Airport Hotel will be your best bet. They even offer free week-long parking for Cycle Oregon participants. For those without cars, it is a 0.5 mile walk from the Mt. Hood Ave MAX stop. See the above tab for more information. Click here to purchase your shuttle pass.

If you live along Amtrak's Coast Starlight route (Los Angeles – Seattle), there is a stop in Albany. Make sure to reserve your bike spot ahead of time and double check your station can accommodate them. It's a scenic ride and great addition to the Cycle Oregon experience!

Alternatively, the POINT Bus runs daily and can accommodate bikes. This is a service operated by the Oregon Department of Transportation. Their Cascades route (Eugene – Portland) has a stop in Albany, and they have other routes within the state that can get you to Portland or the Klamath Falls Amtrak station.

Flying to Portland

The Sheraton Portland Airport Hotel is the official hotel of Cycle Oregon. They are offering a special rate on September 8 and September 16 for our riders; they also provide free week-long parking for Cycle Oregon guests! Book your room online by clicking here, or contact Brooke Hall, the Group Rooms Coordinator, at (503)-335-2857. Make sure to mention you're with Cycle Oregon.

Bike Assembly/Boxing

The Trek Bicycle PDX team of bicycle technicians will provide bicycle assembly for those who need support. Click here to sign up for the service in advance.

Accommodations in Albany

Planning to arrive early or stay late? Albany has many hotels to choose from, here are a few nearby:

Phoenix Inn Suites Albany: 3410 Spicer Dr SE. Albany, OR // 541-928-5050

Holiday Inn Express & Suites Albany: 105 Opal Ct. Albany, OR // (541) 928-8820

Comfort Suites Linn County Fairground and Expo: 100 Opal Ct. Albany, OR // (541) 497-7782
Ship Your Bike
Need to get your bike to Oregon? Use Bikeflights, the official bicycle shipping service of Cycle Oregon. Bikeflights built a custom Cycle Oregon Shipping Guide to streamline your event travel. All bookings are monitored by their expert team until delivery. Bikeflights also offers easy-to-pack boxes, packing how-to videos and excellent customer support. Ship the best way with Bikeflights.
Ride Logistics
The idea is to have a relaxing, enjoyable week of riding. The key to that? Take care of as many details as possible beforehand. In this section you'll find pretty much everything you need to know to make your Cycle Oregon experience a great one.
Camp Services

Showers

Hot showers will be provided at each overnight site. The showers come with dressing rooms, sinks and even a laundry area to hand-wash clothes. Please remember to bring a towel or two, as we do not provide towels or toiletries.

Rider Services

Rider Services is the Cycle Oregon customer service department. You will find the Rider Services trailer in a visible location near the entrance to each overnight campsite. This is the place to ask questions, get help solving a problem, meet friends, leave a note on the message board or locate missing items at lost and found.

Cycle Oregon Gift Shop

The Cycle Oregon Gift Shop is where you'll shop for Cycle Oregon merchandise including a limited number of this year's ride jersey, cycling gear, t-shirts, sweatshirts, hats, jewelry, sundries, and much more. You can also buy extra meal tickets there. Look for the Cycle Oregon Gift Shop near Rider Services.

Medical Services

A medical tent will be set up at the overnight site. There is no charge for medical services on the course or at the overnight site. We will not transport you to a medical facility unless it is a critical situation. If you require services from a local medical facility, you will be financially responsible.

Electronics Charging

The Community Cycling Center has been working over 25 years to broaden access to bicycling and its benefits in Portland. In that time, they've also helped you roll smoothly over breathtaking rural roads by offering on-site services at Cycle Oregon, to charge your phones, Garmins, lights and more.

This year, we are bringing back our charging trailer to help make your Cycle Oregon experience even better! We've switched to a punch-card model and will be bringing along an extra battery this year due to previous high demand.

Your purchase goes directly toward funding CCC's free community Bike Camp. We all remember our first time on a bike and the magic and freedom that came with it, your support enables more children to experience the wonder and benefits of bicycling. Sign-up  for your punch card today!

You will be able to pick up your punch-card on day 0 of the event if purchased online. Punch-cards purchased at the event will be available at time of purchase.

Please note: The Community Cycling Center Electronics Charging service CANNOT support the charging of e-bike batteries or drones. 

CPAP Service

We will designate a camping area adjacent to the medical tent with electrical hookups for those who use equipment such as a CPAP (continuous positive airway pressure) or sleep machine. The medical crew will carry your CPAP equipment from site to site; the cost for this service is $60 for the week. This does not include the use of a tent – you must provide your own or register for Tent & Porter. You will still be responsible for delivering your gear bag to the baggage truck. This service is limited to the first 30 people who sign up. (Need help adding to your order, click here.)

Massage

The majestic mountains of Oregon seem mighty tall when you're pedaling up them and knowing that a massage awaits you can make that climb a lot easier.

After a long day in the saddle, bring your tired legs down to the massage tent. Our therapists use a variety of Swedish, deep-tissue and sports massage styles to keep you riding strong all week. Massage relieves muscle pain and tightness by stimulating circulation, helping you recover after extreme exertion and stopping spasms before they stop you from riding. Massage can be tailored to your pressure preferences and to the areas where you need it most.

Pre-booking is available for all rides beginning April 1. To pre-book appointments, please visit the Cycle Oregon Massage Team's website, click on the ride that you would like to book an appointment for, choose a therapist and contact them directly.

Massage rates are $110.00 for a 50-minute appointment and $155.00 for a 80-minute appointment. We accept all major cards or cash. A limited number of 30-minute appointments may be available the day of the ride. Come to the massage tent directly to inquire.

A little hint, when you're choosing where to pop your tent for the night, you may want to set up away from the massage tent, as our music is loud and lively and we're open until 10 p.m.

Yoga

Stretch out the muscles that get tight during cycling. These yoga classes will help you stay close to your breath this week. Not only will this help you feel better, but stretching can also help prevent injury. And you'll meet other great people who like to do nice things for their bodies too. There are typically two sessions each afternoon, depending on the length of the riding day. Mats are provided. Check the daily schedule at Rider Services.

Physical Therapist

Megan Moseley, PT, LMT, of Bodywise Physical Therapy, will be available every day after the ride for complimentary Physical Therapy consultations. These action packed 15 minute sessions include education about the underlying cause of your issue, instruction in stretches, exercises and self-care techniques, hands-on treatments i.e. myofascial release, graston, cupping, mobilization, taping, bracing, and insole adjustments to get you feeling better, and back on the road!  Additionally, Megan will make bike-fitting recommendations, and help you coordinate care with your massage therapist. Sign up at the orange Bodywise tent, located near Rider Services.

Get your CO adventure rolling early by attending Megan's stretching, and injury prevention class from 4-5 p.m. on Saturday, your first night in camp. This a fun, interactive class geared toward balancing and stretching your whole body to counteract the forward positioning on the bike, stretch over-used muscles and re-aligning joints that are stressed with cycling long distances.

Bike Repair

The Trek Bicycle PDX (formerly Bike Gallery) team of bicycle technicians provides mechanical support at the overnight site. Technical support is available for emergency repairs of well-maintained equipment. It is your responsibility to make sure your bicycle is in good condition. Labor is available at a discount.

Baggage

Over 60,000 people have made the week trip with one 65-pound bag; you can too! Here are three simple rules for bags:

One bag per person. Everything goes in that bag – tent, clothes, etc.
65 pound limit. We hand move over 2,000 bags, twice a day. Please abide.
Do not strap/lash bags together. This may injure baggage volunteers.

Baggage Pickup
Participants must pick up and deliver their own gear from the baggage trucks at each overnight camping area. Truck trailers are numbered and fitted with stairs. Remember to note the trailer in which you load your gear so you can locate it easily at the next site.

Porters
Local volunteers are usually available to carry bags from the trucks to the campsite and, again in the morning, from the campsite to the trucks. We encourage you to tip the porters ($2 per bag is suggested), as this benefits local volunteer groups.

Baggage Truck Departure
Baggage must be dropped by 8:30 a.m. each morning and picked up by 8 p.m. each night. Riders are responsible for getting their bags to and from the baggage trucks by the designated times.

Make Your Bag Easy to Identify
Please mark your gear bag with additional personal identification tags (including a phone number). A distinctive tag, such as fluorescent tape or a colorful ribbon (don't use pink, we use that for bus bags), will also help you locate your bag among the 1,999 others.

Food, Drink & Entertainment

Meals

Cycle Oregon provides hearty and well-balanced breakfasts and dinners at each overnight site. On the course, there are three Rest Stops with a variety of food and drink options to keep you fueled. Each Rest Stop will be a little different and will include fresh fruits, snacks, breads & spreads, and other treats. We know that riding all those miles requires a lot of calories, and we don't leave you short on that count. We offer vegetarian options at each meal; if you have other dietary concerns, please let us know in advance. Our daily menus will be posted here as soon as they are finalized, usually by early summer.

Meal times

Breakfast: 5:30 – 8:30 a.m.
Dinner: 5 – 8 p.m.

Nightly Announcements

Every evening at 7:30 p.m., the Cycle Oregon community gathers around the Main Stage. The evening meeting is part communion and part comedy. It's a great opportunity to get the latest weather forecast, hear tips about the next day's route, learn about the places we're visiting and catch up on some local folklore. Best of all, it's always followed by terrific entertainment.

Beer & Wine Garden

Each night's campsite will feature a Beer & Wine Garden with beverages available for purchase. The garden highlights a selection of local craft-brewed ales, a selection of great wines, and daily cocktail specials. The Garden is open daily from noon – 10 p.m.

Other Food Vendors

Other food available for satisfying those after-ride cravings includes the revered Nossa Familia coffee and other local community specialties.

Entertainment

Cycle Oregon showcases some of Oregon's most talented performers, from country rockers to clog dancers, blues divas to jazz greats. Performances are scheduled each day on the Main Stage. After the nightly announcements at 7:30 p.m., we bring out our headliner act – these are some top-notch performances you won't want to miss.

Course Support

Cycle Oregon prides itself on providing a fully supported ride. Our goal is to help you finish each day's ride. To that end, our course is complete with the following services and amenities.

Course Hours

The course opens at 6:30 a.m. each morning and we do a rolling closure as riders move through. Course support services are only available during the course hours.

Our sweep team follows behind the final riders to remove route signs and close the course, but their role is also to keep riders moving forward throughout the day. We ask that riders maintain at least 8 mph average speed to stay ahead of the sweep team. Route options (such as hill climbs) and layover day routes may have a specific closing time. Additionally, on layover days, riders need to be on the course by 9:00 a.m., and on Saturday, the course will officially close at 4:00 p.m. Visit Rider Services at the event to get details about specific course times.

If you start before the course opens or are still riding after the course closes, there will be no support services available. Riders that are about to be passed by the sweep team will be offered a ride either ahead to a stop or all the way to camp. If you choose not to take the ride, you will be on your own to get back to camp.

Food and Drink

Rest stops will be available along the route each day to provide water, beverages, nutritious and delicious snacks, restrooms, and bike mechanics. The first Rest Stop will open at 7:00 a.m. Typically the second rest stop of the day will offer some additional, hearty options to keep you fueled. Rest Stop signs alert riders when one is just a mile ahead (or look for the banana on the route map).

In addition to the Rest Stops, one or two Water Stops per day will provide water and restrooms (indicated by a water bottle on the route map). Many of our rest stops are in beautiful parks, so take your time and enjoy the setting.

Rest Stop opening and closing hours vary based on the length of the route and the 8-mph pace. Visit Rider Services at the event to get details about specific Rest Stop times.

Gear Drop

Each day at one of the first two Rest Stops, you can drop off a limited amount of clothing to be taken to the evening's campsite. This service is for small items such as jackets, tights, leggings, gloves, etc. No half-eaten sandwiches, half-stuffed panniers or other oddities will be transported. Gear drop can be picked up near Rider Services, generally between 4 and 5 p.m.

SAG Vans

There will be multiple SAG vans on the course each day. They are available to transport cyclists as needed due to mechanical problems or medical injuries. They also have extra water, snacks, and sunscreen if needed. If at any time you need assistance, please signal a SAG van with a "thumbs down" signal. If you do get into a SAG van, you may not be transported directly to camp. SAG vans typically wait until they are full to go to camp.

There will be a SAG van available each morning to transport cyclists from site to site if cyclists are not feeling well or are injured. Go to the Medical tent and get a medical release for riding the medical SAG . Bring that form to Rider Services before 8 a.m. to sign up for this shuttle option.

Bike Mechanics

Trek Bicycle PDX (formerly Bike Gallery) will have mechanics in camp and on course. They will make basic repairs in order to get you through the week. Cyclists will incur any charges associated with parts or extensive repairs.

Medical Service

Adventure Medics provides around-the-clock medical support on the course and in camp. If you require medical attention on the course, you should notify a SAG, ambulance, or staff vehicle with the "thumbs down" signal.

Safety Patrol

Motorcycle safety patrol volunteers drive the Cycle Oregon course each day. They are a great source of information and assistance and enhance the overall safety of the ride by interacting with riders who may pose a hazard by unlawful or unsafe riding.

Check In and Packet Pick-Up

Each rider will be asked to sign the ride waiver when picking up their rider packet. The rider packet contains a wristband and bike number. Please bring a photo ID to show the volunteers in order to receive your packet.

Your wristband should not be removed unless you choose to leave the ride. Until you have checked in and are wearing a wristband, you will not be identified as a participant and will not have access to meals, course support, etc. If you leave the ride, it is important that you check in with Rider Services to let them know you are leaving.

Check-In Hours

Saturday, September 9: 11 a.m. – 9 p.m.
Sunday, September 10: 6 – 8 a.m.

Arriving and Leaving Late

If you arrive on Sunday, you must have your bag in the baggage truck by 8:30 a.m., as the trucks leave by 8:45 a.m. You can pick up your rider packet that morning at Rider Services.

No camping will be available on the last Saturday of the ride. Consider getting a motel room in the area or finding a nearby park.
Rider Guests
Rider Guest Passes
Space is very limited in some of our host sites, which limits our capacity for Rider Guests and Support Vehicles. We cannot accommodate personal vehicles beyond this limited capacity (even if it is just a Prius).
Vehicle Registration Fee
A registration fee of $500 is required for each Rider Guest/Support Vehicle. The fee includes access to the services provided at the overnight site including showers, restrooms, beer garden, daily entertainment, other food vendors, and medical tent. It does not include food. A meal band can be purchased for an additional fee during the registration process.
Important considerations about the Rider Guest/Support Vehicle parking program:
Vehicles must register –  Anyone accompanying a rider through the week in a vehicle must register through the Rider Guest/Support Vehicle program.
Tent Camping –  Some of the Rider Guest/Support Vehicle locations will have grass nearby for tent camping, others will not.
Rider Guests and Support Vehicles drive alternate routes to each overnight location – To enhance the safety of riders and their overall experience, Rider Guests and Support Vehicles will be asked to take alternate roads to the overnight site wherever possible (directions will be provided). The Rider Guest/Support Vehicles program is not meant to provide support for individual riders along the route.
Rider Guests and Support Vehicle drivers are not registered riders, and so should not be riding the route each day.
Rider Guest/Support Vehicle campsites will be as close to the rider venues as possible –  While the Rider Guest/Support Vehicle area is not an RV park – more likely it's a city park, someone's field or a parking lot – hook-ups (water, electricity and dumping stations) are provided when available.
Quiet Hours – When possible, we try and locate vehicles that have generators separately from those without. In addition, the Rider Guest/Support Vehicle area will observe quiet hours (no generators) from 10 p.m. to 6 a.m. every day.
Click here to purchase a Rider Guest vehicle registration and Meal Band.
CANCELLATION POLICY AND WAIVERS
We understand things happen in life and sometimes you have to cancel your registration. We want to make it as easy as possible to do so. Please note we do not make exceptions in our cancellation policy (including family, medical, or employment situations). We cannot offer credits or transfers. Trip insurance (including COVID-19 coverage) is available for purchase during registration.
Submitting Cancellations: Please submit cancellation requests to info@cycleoregon.com. Please note we do not make exceptions in our cancellation policy (including COVID-19 related issues, family, medical or employment situations). Refunds will be processed through the credit card you used to register when possible. Processing fees incurred at the time of purchase are non-refundable. Please allow up to 30 days for processing.
Cycle Oregon may cancel or reroute an event due to the occurrence of any force majeure event or credible threat thereof, including but not limited to any Act of God, fire, earthquake, acts of civil or military authority, casualty, flood, war, terrorist attack, epidemic, insurrection, civil unrest, strikes or other labor activities or any other similar cause beyond the reasonable control of Cycle Oregon Inc., including environmental conditions that might threaten the health and safety of Event participants, volunteers or staff. I understand and agree that my registration fees and other costs will not be refunded by Cycle Oregon, Inc. if all or any portion of a Cycle Oregon Event is cancelled or rerouted due to a force majeure event. I will release and hold Cycle Oregon Inc. harmless for any costs or damages incurred as result of cancellation or rerouting of a Cycle Oregon Event due to a force majeure event.
Click to view a PDF of the Release of liability and assumption of risk agreement and COVID-19 Policy, Acknowledgment, and Waiver.
COVID-19
Rider health and safety is paramount on Cycle Oregon events. Working within the guidelines from the Oregon Health Authority, we have developed COVID-19 safety plans and protocols which we will amend as new updates and guidelines are announced leading up to an event. 
Cancelling Classic Rider Registration

Through July 15, 2023

A $125 fee for each rider registration (including accompanying products – Tent & Porter, Bus Tickets, Parking).
A $30 fee for cancelling only these services: Tent & Porter, Bus Tickets or Rider Guest Registration.
There is no refund for cancelling only Parking.

From July 16 to August 12, 2023

A $300 fee for each rider registration (including accompanying products – Tent & Porter, Bus Tickets, Parking).
A $50 fee for cancelling only these services: Tent & Porter, Rider Guest Registration.
A $30 fee for cancelling only Bus Tickets. There is no refund for cancelling only Parking.

After August 12, 2023

There are no refunds for cancellations after August 12, 2023.

Cancelling Rider Guest/Support Vehicle

Through July 15, 2023

A $30 fee for cancelling your Rider Guest Registration. There is no fee for cancelling only a Meal Band.

From July 16 to August 12, 2023

A $50 fee for cancelling your Rider Guest Registration. There is a $25 fee for cancelling only a Meal Band.

After August 12, 2023

There are no refunds for cancellations after August 12, 2023.

Merchandise Refunds

| | | | |
| --- | --- | --- | --- |
| Classic | Through 6/15 | 6/16 to 8/12 | After 8/12 |
| Jersey, Tank | $75 | $34 | $0 |
| Vest | $80 | $34 | $0 |
| Jacket | $100 | $34 | $0 |

The price listed above is the amount that will be refunded at that time. Processing fees incurred at the time of purchase are non refundable.
FAQS
Additional FAQs and answers about the Classic can be found on our FAQ page.
Ride Archive
Relive rides of yore with our handy ride archive: